Installing printers in Windows - Kunnskapsbasen
Installing printers in Windows
How to install printers in Windows 10.
Norsk versjon - Installere NTNU-skriver i Windows
Topic page about Printing and Copying | Pages tagged print
Watch instructional video on printer setup for Windows
Requirements
You have to be connected to NTNUs network to print, either via VPN, Eduroam, NTNU MA or a network cable.
You have to have enough available funds in your printing allowance account.
Some computer labs are configured to not allow installation of new printers, and you therefore have to use the pre-installed printer(s).
How to connect to a printer
The printers at computer labs are typically connected to a combined print queue for several printers. This means that when you are sending a printing job to the printer, and then sweep your card at a one of the computer lab printers connected to that queue, you will be able to access your printing job there.
All NTNU printers with card readers are available on:
Note: These queues are interchangeable, meaning that it does not matter which one you use for normal printing, but some special features (colour, duplex, stapling etc.) may require that you use the queue that match with the printer you use (ntnuprint-ricoh for Ricoh printers).
Installation
The following procedure is usually only necessary once.
Connect to NTNUs wireless (eduroam, not ntnuguest) or cabled network.
Open the Start menu and type "Run" (older versions have Run directly on the Start-menu)


In Windows 8 and 10, press the Windows key, then type "Run", followed by Enter.

Write down the address to the print server, "\\followprint.win.ntnu.no".
Press Enter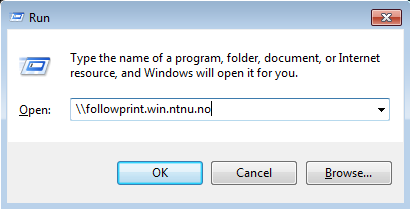 After a little while, a window similar to the one below may pop up. Here you type win-ntnu-no\yourusername and your password underneath. With newer versions of Windows you might have to click More choices, then Use a different account to change the username field.
Important: Check Remember my credentials. That way you will not have to add the printer again the next time. If you forget, you will have to delete the printer first and then add it again.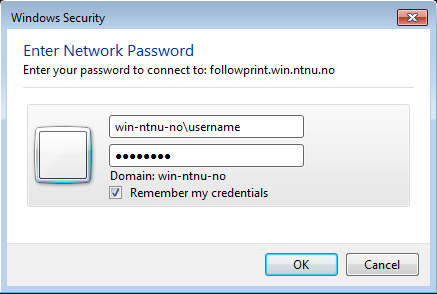 Click OK to proceed.
After you have successfully logged in, a new window will appear. In this window you can double-click on the printer queues you wish to install. The following queues are used for regular printing:

After the installation is complete, a small window will open in the top left corner of the screen. You can close this window. You can also close the window that shows available printer queues. You are now set to print with your own computer!
Printing in colour
All the printers on Followprint are configured to force black-and-white printing to reduce the printing cost for students, but this can be disabled by following these steps:
Ricoh
Select Print, then Preferences
From the drop-down menu at the bottom, select "Color"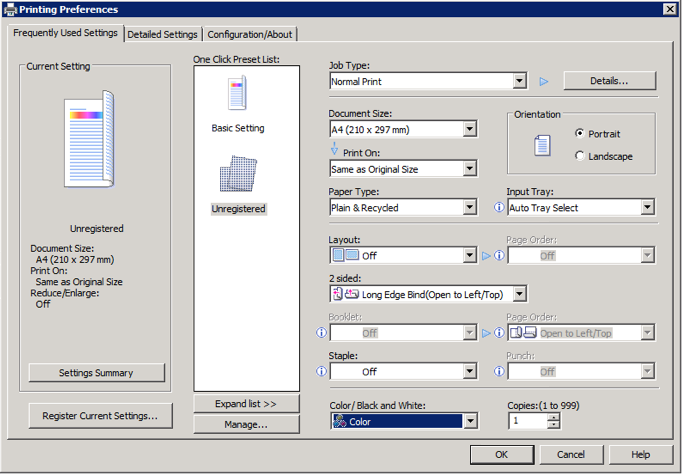 Troubleshooting
Check that you are connected to internet.
Run Windows Update and install all available Windows updates.
Make sure you have enough money remaining in your printing allowance.
Related
Contact
Orakel Support Services can help if you encounter difficulties.