Installing printers in Linux - Kunnskapsbasen
Installing printers in Linux
How to print using NTNU-printers with Ubuntu Linux
Norwegian version -  Installere NTNU-skriver i Linux
Are you looking for something different? Main page for print and copy | Pages tagged with print
You have to be on the NTNU network to print, either with VPN, wireless or ethernet.
Available printers
Use MazeMap and search for "Åpen tilgjengelig skriver" when focused on your local campus or building, and it will show all printers that are available for everyone (i.e. not behind locked doors).
Printing from Ubuntu with Unity
Necessary dependencies 
Before you add the printer, you must install the package smbclient, by running the command "sudo apt install smbclient" in the terminal.
For some distributions, it is also necessary to install the packages "cifs-utils" and "python3-smbc".
Please note that other distributions may require other packages than those named here.
Open the "Printers - Localhost" window
Ubuntu 14 & 16:
Click the gear in upper right corner, Select System setings... and then  Printers.
Ubuntu 17 & 18:
Click the tooltray in the upper right corner and select the tool icon. Select Devices and Printers. Click the Additional Printer Settings... button.
Add the printer
Click + Add

Select Network printer, and then Windows Printer via SAMBA.
Fill inn the printer path in the "smb://" field according to printer type in use:
WIN-NTNU-NO/followprint.win.ntnu.no/ntnuprint-xerox
WIN-NTNU-NO/followprint.win.ntnu.no/ntnuprint-ricoh
Enter your NTNU username and password, and click Forward. NB! Ubuntu18 has swapped the order of the fields. The "Verify..." button does not work.
Select Generic and click Forward.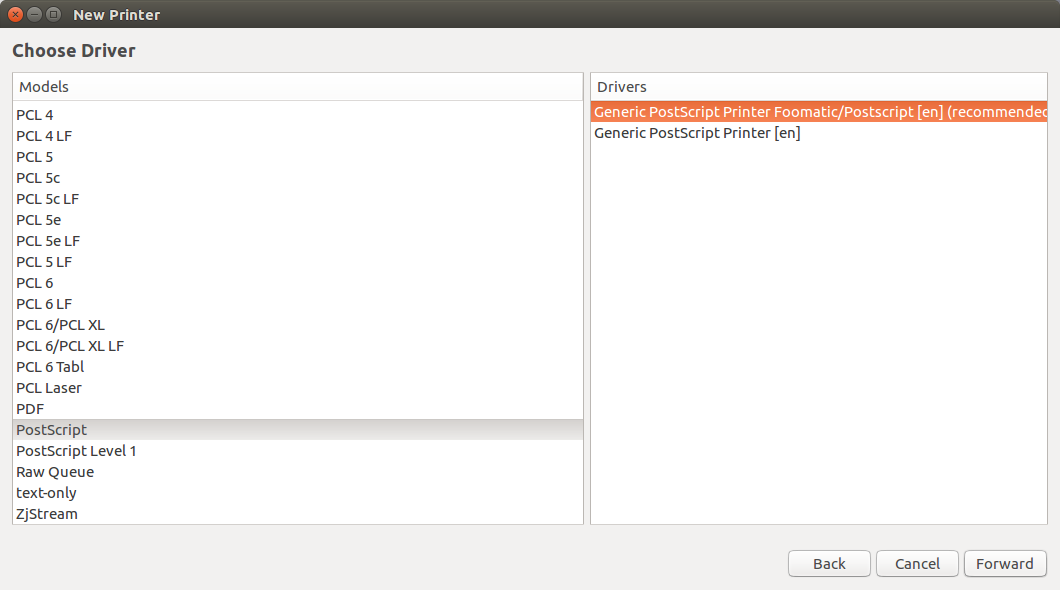 Select Postscript and keep the suggested driver. Click Forward.
The generic postscript driver will handle plain printing, including duplex. For the more advanced options like hole punch, stapling etc you may try the driver that is closest to the actual modell you normally use. You may switch driver for the printer later.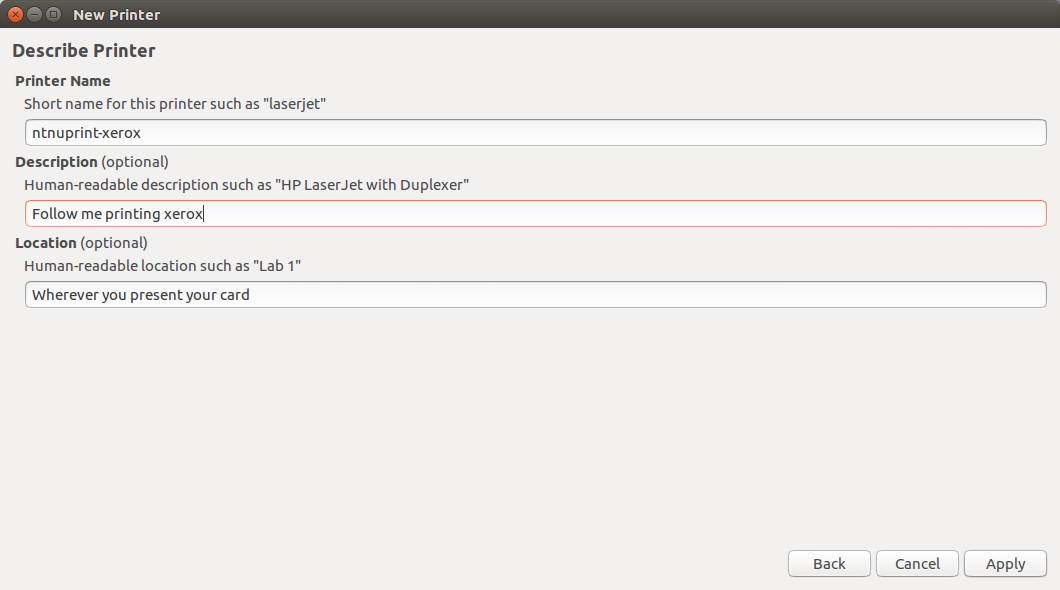 Name your printer connection. The above is just a suggestion. Click Apply.
Ubuntu 17/18 notes
You may have to accept a driver download.
If it complains about "client-error-not possible" do the following: Click the Activities menu in upper left corner. Type "terminal" and click the "Terminal" application. Type "sudo apt-get -y install smbclient" at the prompt, and supply your password if asked. Retry the failed step above.
Click "Cancel" and save the rain forest.
Repeat if you use both Xerox and Richo printers.
Problems
Check that you have enough money in your print quota if you are a student.
Check that you're connected to the NTNU network, either through cable, wireless or VPN.
If you cannot see the "Windows Printer via SAMBA" option or get "client-error-not possible", try to install smbclient with the command "sudo apt-get -y install smbclient".
If Richo printers emit "configurationerror" it may stem from US-Letter paper format set in the printer options or the printed document. Change to A4.
If you are having problems with authenticating the printer installation, Go to terminal, type the command "sudo -H system-printer-config" and configure the printer from the printer settings window that appears.
If your password has any special characters, you need to edit the printers.conf file to get the right values, @ appears as %5C in the printers.conf file, make sure you put it back to @. How to: Run terminal as root by opening terminal and running this command "sudo -s". Run this command "sudo service cups stop", open /etc/cups/printers.conf in an editor, make your changes, save and close. Restart cups server with this command "sudo service cups start"
Related
Contact
Orakeltjenesten can help you if you encounter problems