Teams - personal settings - Kunnskapsbasen
Here you can read about how to manage your personal settings in Teams such as language, display, routines for program launch, privacy, and notifications.
Norwegian version - Personlige innstillinger
Topic page for Office 365 | Topic page for Teams
Manage personal profile
To navigate to your personal settings in Teams; click your profile picture in the top right corner of the window.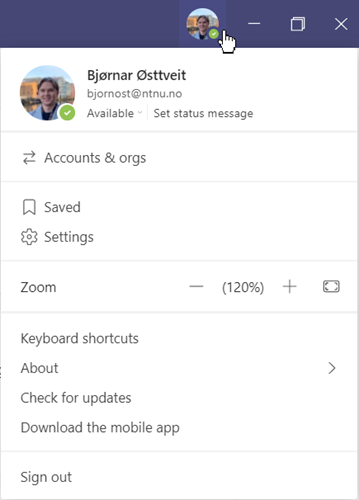 Availability
States your current availability and status which is visible to other users in your organization. You can manually change your own current availability here.
Set status message
You can set a status message in Teams. This message is visible to others in the chat window when they hover their mouse over your profile picture. This can for example be used to indicate that you are working from home or any other relevant piece of information regarding your work situation. This works in the same way as the status message in Skype.
Saved
The saved tab contains a list of messages and posts which you have previously saved/bookmarked. If you have not bookmarked or saved any content previously, this tab will be empty. To save content to this list, you hover the mouse over the message or post you would like to save, and click on the three dots which indicates "more alternatives". After clicking the dots, you can select Save this message.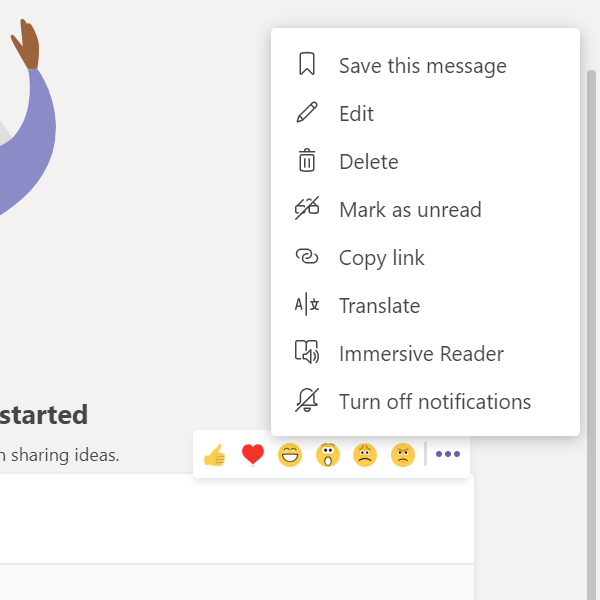 Settings
Here you will find settings related to theme/appearance, routines for program launch, language, privacy, and notifications in Teams. These will be explained further below under the categories in which they are divided.
General
The general settings lets you select theme/appearance/color for Teams. Here you can also choose the settings for program launch on computer startup. You can decide whether the program should launch automatically or not. Under general settings you can also change the display language in Teams.
Privacy
Here you can decide who can still notify you even if your status is set to Do not disturb. The standard settings for Teams is that you don't receive any notifications when your status is set to Do not disturb.
Notifications
Here you can decide how, when, and if you should receive notifications from Teams. You receive notifications in three different ways:
1. In the form of a banner in Teams.
2. As a notification in the activity-feed.
3. As an email.
It can be practical to get emails whenever someone mentions you (writes @yourName), as these messages are often important.
Devices
Settings regarding your microphone and camera. Choose which camera and microphone to use, volume, headset etc.
Permission
Grant permission for apps to use your GPS-location, camera, microphone etc.
Calls
Change your ringtone and turn on TTY mode.
See also
Contact
Orakel Support Services can help if you encounter issues in regarding managing personal settings in Teams.