KASPER - Reference group tool - for students - Kunnskapsbasen
In this guide, you will learn how you as a student can work in reference groups in your courses through the Study Program Management System - also known as KASPER. For students, this process mainly takes place in Microsoft Teams. If you want more general information about why we have reference groups, you can read the wiki Reference groups - quality assurance of education or watch our new introduction video (1min40s).
Norsk versjon - Referansegrupper for studenter i KASPER
Watch the video: Help! We've Joined a Reference Group (2min15s)
All KASPER wikis | Pages with "KASPER" tag
Getting started
Once your course coordinator has created the reference group and added members, a team will be created for the group. All members will receive an email notification.
If you have not yet downloaded Teams to your computer or phone, you can do this through Office365 on Innsida. Click the "For students" button at the top left of this page and continue into Office365.


From there, click the icon for Teams.


A new window will open, and you can choose to either download the app to your personal computer (1) or continue in the web-app (2). These have the same functionality.


The reference group in Teams
This section shows you how to work with your reference group in Teams. If you are unfamiliar with Microsoft Teams, you can learn more from our wikis at Office 365 - Teams.
Your Teams workspace will have a standard setup of tabs. If the Teams window is too narrow to show all tabs, click where it says "n more".


The following tabs are included:

Posts: This tab is a discussion board open for all members of the team. You can use this tab to ask questions and discuss topics with your course coordinator and other team members.
Files: Here you will find all files attached to the reference group, including a template for the report. You may upload and download files to use in your work.
Registrer avvik [Register deviations]: This tab redirects you to the "Speak up!" page in Innsida, where you will find information about how to report "censurable conditions" that are not course-related. This can be issues regarding unwanted personal attention or unacceptable conditions tied to health, safety, and the environment. Such deviations should not go in the reference group report, but rather be registered in separate deviation forms.
Referansegrupperapport [Reference group report]: This is the template for the reference group report. You can write and collaborate with your peers directly into this form. This tab is also a link to the report file that you can find under the files tab.
Here is what the template looks like.
Les om referansegruppe [Read about reference groups]: This tab redirects you to a site at Innsida where you will find general information about reference groups and how your work should be conducted.
Om emnet [About the course]: This redirects you to the course's homepage on ntnu.no.
Prosesstøtte [Process support]: This tab is used to submit the final reference group report. It also includes a list of all members of the team.
Submitting the report
When the report is finished, it must be submitted through the "Prosesstøtte" [Process support] tab (1). Click "Send rapport til emneansvarlig" [Send report to course administrator] (2). A menu will appear to the right, where you can choose the report file (3) and click "Send til emneansvarlig" [Send to course administrator] (4). The course administrator will receive an email notification and will have the option to publish the report. NB: When the course administrator publishes the report, the team will be dissolved.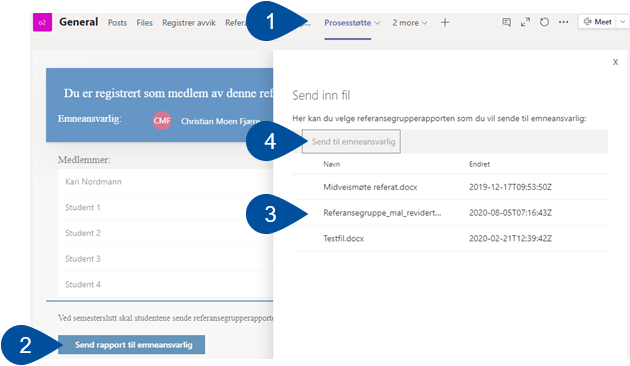 Public assessment
If the course coordinator believes that the report contains personal and sensitive information, or discusses deviations that do not relate to the course material or to your course coordinator, they may send the report to a public assessment committee.
All faculties should have such an assessment committee established for reference group reports. However, if there is none currently available, all inquiries should be sent to the faculty's KASPER contact.
The public assessment committee handles any errors and necessary corrections, contacting the students if needed. If the committee finds the report not suitable for publication, it will be archived and kept hidden from public view. In this case, anyone who wishes to view the archived report will have to formally request access.
More information
Contact and Assistance