Encrypting files - Kunnskapsbasen
This page shows you how to protect your files using password and encryption.
Norsk versjon - Kryptering av filer
Topic page about IT services | Pages labeled with information security
Remember this before encrypting
Once the file is encrypted, it can only be read and modified if the password is known. Therefore, be careful not to lose information if the password is lost.
No protection is obtained if the file and passwords are stored in the same location. If you are to distribute your file by e-mail, you must share your password in another channel, for example by SMS or by phone. Note that instant messaging (chat) is not suitable for password execution since the password will be stored in the message log.
How secure is the encryption?
The encryption used in 7-Zip is AES-256. It takes a very long time to break with today's machine resources if the password is secure.
Read more about securing username and passwords.
Download and install the program
The program we recommend is 7-Zip that is available on all managed PCs. It is free and can be downloaded directly from the Internet.
Managed PC in NTNU: Install from Software Center
Other PC: Download from Internet
Encrypting
Locate the file or files to encrypt and click the right mouse button on the file. Alternatively, you can add multiple files to a directory and encrypt it.
Select 7-Zip, Add to archive...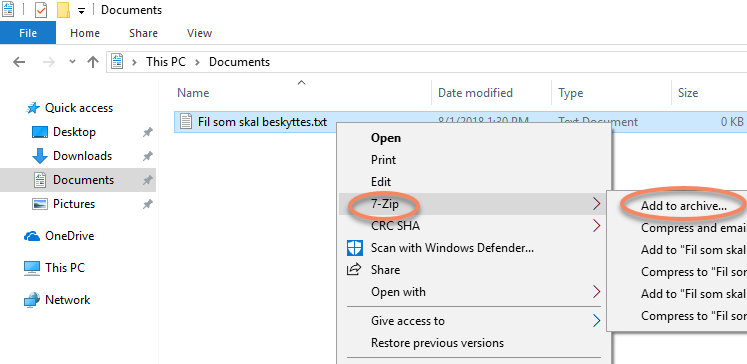 Choose ZIP as the Archive format and set a secure password of 15 characters or more. Make sure that the Encryption method is set to AES-256.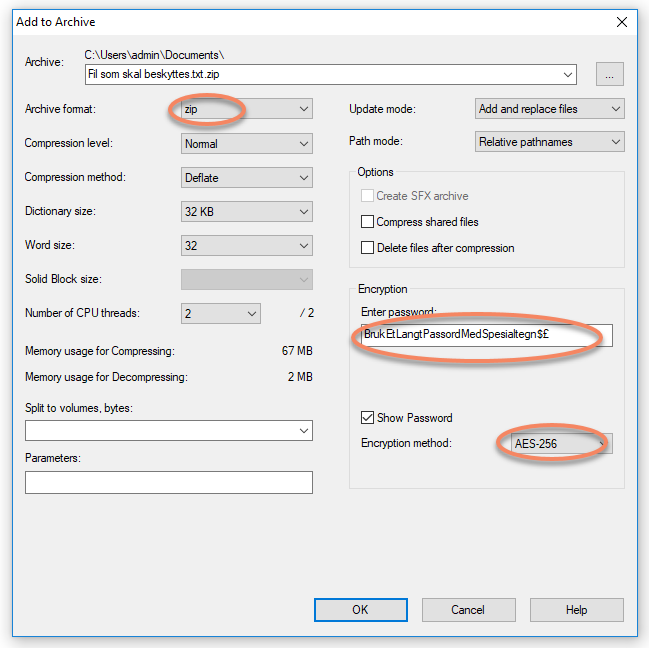 The file is now encrypted and can be sent by for example e-mail, OneDrive or Uninett Filesender. NB! Not everyone allows the receipt of ZIP files in e-mail.
Advices
If SMS is used to hand over the password, you should inform the receiver that the password should be deleted before, or immediately after the encrypted file is received. This is because SMS is usually stored "open" on the same mobile device as the recipient's mailbox.
You should always open encrypted files on a personal PC. When opened it will allways leave infomation that can be exploited.
Contact
Orakel Support Services can help if you have questions or if you encounter difficulties.
If you have tips to improve this guide, please send an e-mail to orakel@ntnu.no