Panopto lecture capturing - Kunnskapsbasen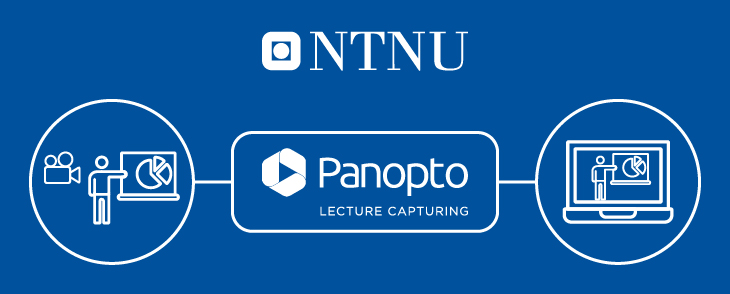 Norsk versjon: Panopto undervisningsopptak
Front page for Online teaching
In Panopto you can create recordings direct from your computer, record lectures in certain classrooms and upload and edit already recorded videos for viewing through an integrated playback platform.
This page gives you an overview of what you can do in Panopto, how to get started with Panopto and some of its features. The page provides an overview and links to several resources from both NTNU and Panopto.
To Panopto
Select "Sign in" in the upper right corner and log in with NTNU Feide to create a user.
Panopto courses
NTNU runs webinars i Panopto. Check the Course Catalogue for future courses.
You can see a recording of a Panopto introduction session from Panopto here (English).
You can see a recording of a Panopto introduction session from the Multimedia Centre here (Norwegian).
What can I do with Panopto?
Video production on your PC / Mac / mobile phone.
Publishing existing video and audio files
Publishing video from mobiles
Publishing online meetings from Zoom or Skype For Business
Podcast Recording
Automatic recording and streaming of classroom teaching from auditoriums
Easy video editing
Creating video quizes
Students can deliver their own video productions
Live streaming of lectures from your own PC via Panopto Capture
Live streaming of Zoom meetings
ASR - Generate automatic subtitles for video
Here you can watch a 3min video about Panopto for Education
Getting started with Panopto
Panopto can record directly from your internet browser or on your computer desktop with Panopto Recorder. We recommend that you download and use the Panopto Recorder.
Install Panopto Recorder
NB If you have an NTNU-managed PC, you must download and install Panopto Recorder through the NTNU Software Center
Help for installing applications from the Software Center
Uploading sound or video recordings to Panopto for publishing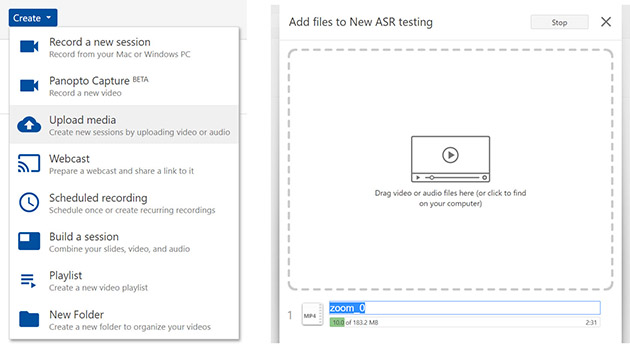 You can import existing audio and video files easily for publishing in Panopto. The system supports most file types and will automatically convert the files to formats suitable for online use. Max resolution is set to 1080P (Full HD). The system supports uploading 4K video but will convert these files to HD.
Press the "Create" button when logged into Panopto and select "Upload Media". You can then drag files into the browser or select them in the browser to upload. You can see more info about file upload in Panopto here.
Panopto in BlackBoard
Instructions for using Panopto in Blackboard can be found in Blackboard Support. Tap this button
in Blackboard and search for Panopto.
Recording
Panopto Recorder (for recording on your own PC/Mac)
You can use Panopto Recorder to record from your own computer. The program can record both camera and monitor at the same time, or you can also choose to use the camera or monitor only. You also have the option of recording audio only to create a podcast.
You can read more about Panopto Recorder here.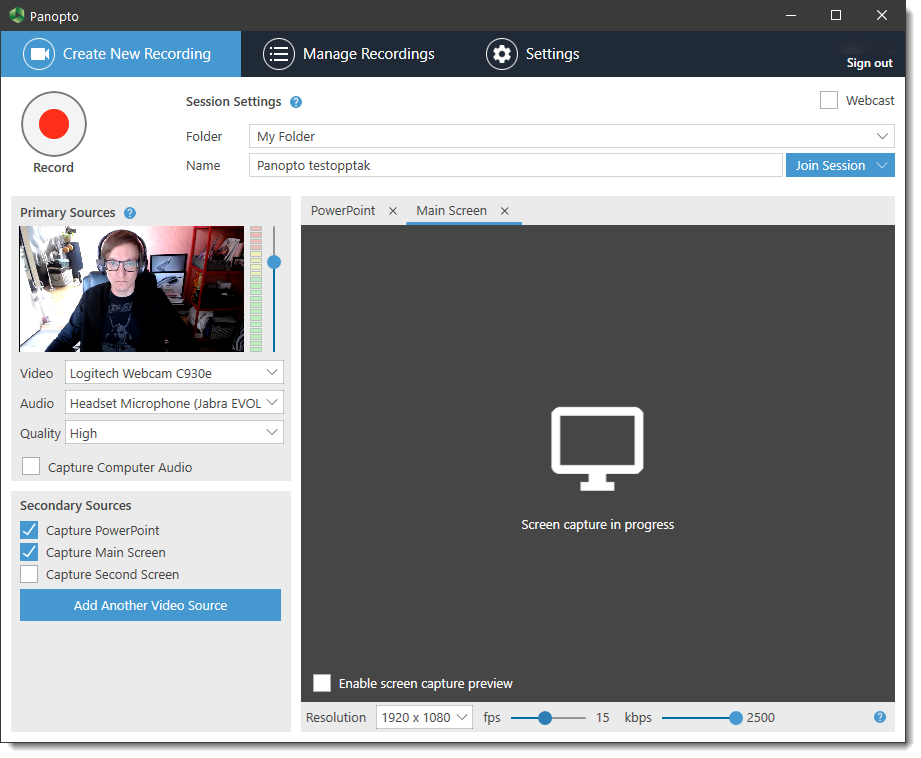 Recording on mobiles and tablets
You can use your mobile or tablet to record a screen or camera that can be published to Panopto. Recordings can then be uploaded via a mobile browser at this address: https://s.ntnu.no/video
Here you can see an example of a video recorded during fieldwork: Anita Kaltenborn: Pyntekrabbe _Hyas araneus
Video: Hvordan gjøre skjermopptak på iPad og publisere til Panopto
Panopto Capture - Cloud-based recording (Beta)
NTNU now has access to Panopto Capture, which is a cloud-based technology which allows you to record directly in the browser. This is an easier way to record that does not require any software installation. The technology is still in Beta so we still recommend using Panopto Recorder.
You can start a recording directly in your web browser with this short link: https://s.ntnu.no/capture
Click here to see more about how Capture can be used.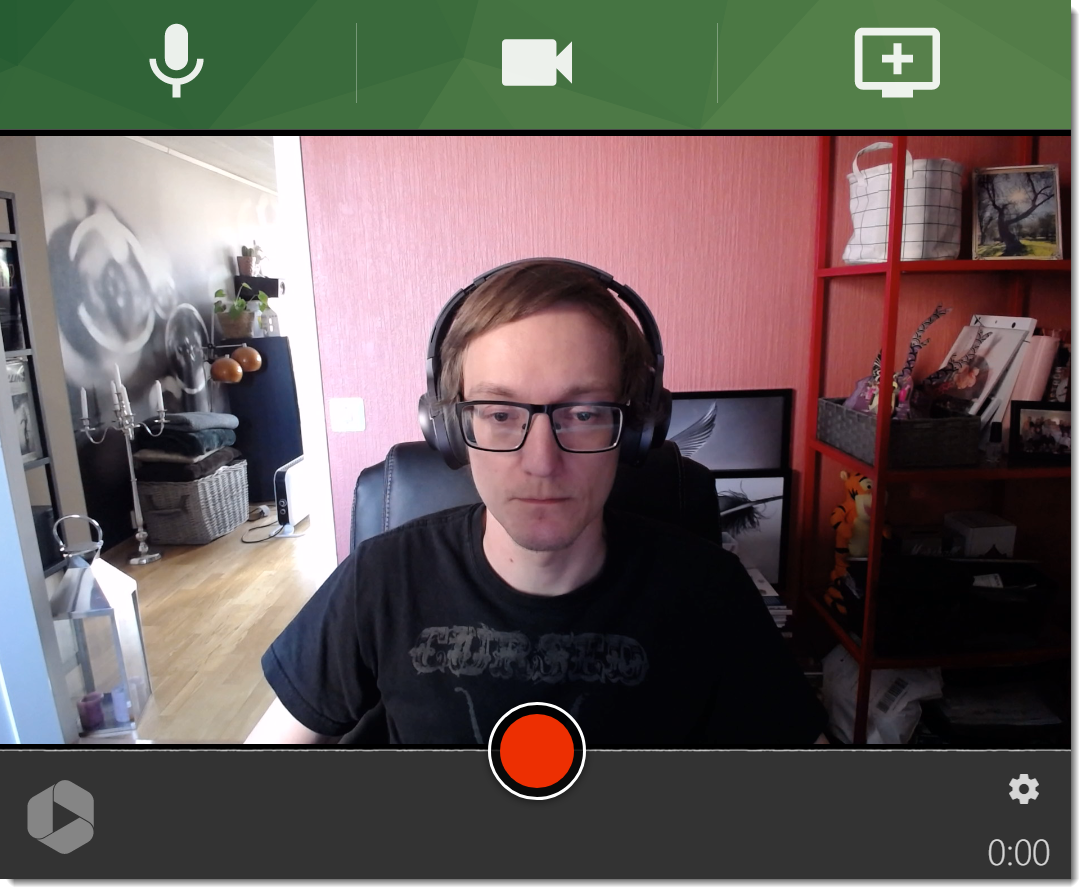 Recommended equipment for recording
We recommend using a USB headset, USB camera with microphone or other external microphone on all recordings. This is because using the internal microphone in the PC normally leads to bad sound quality which is disturbing for students. Remember that audio is the most important thing in a video, try to be in a quiet environment when recording.
You can use the same video recording equipment that you use for web meetings in, for example, Teams, Skype For Business, Collaborate or Zoom:
Here is the recommended equipment in the NTNU webshop
Here are more recommendations for equipment for your home office
We have tested and can recommend the following equipment:
USB-camera: Logitech Brio, Logitech C930
USB-podcast microphone: Blue Yeti X, Audio-technica AT2020USB+
USB-table microphone : Jabra SPEAK 510
Sound card for use with XLR-microphones: Focusrite Scarlet 2i2
USB-document camera: AVerVision U70+, Hovercam Solo-8plus (Multimediesenteret has 10 Hovercam available to borrow)
USB-capture card for use with HDMI cameras: Elgato Cam Link, Magewell USB Capture HDMI, Inogeni 4K2USB3
PTZ USB-camera (Pan/Tilt/Zoom): AVer CAM540 (can be mounted)
Advanced recording
Panopto Focus Tool (for use when recorded more than two sources)
If you record with a document camera in addition to slides and cameras, you can control which source the student sees at any given time with the Panopto Focus Tool.
Watch a video about the Focus Tool here.
Live streaming events or teaching with RTMP
Panopto can be used as server and broadcaster for live streaming from streaming software such as OBS, Wirecast, Vmix or MimoLive. It is also possible to use RTMP to stream a Zoom meeting to Panopto.
You can about how to sett up a RTMP stream in Panopto here
You can watch a vodep about how to stream live video from a Zoom meeting to Panopto here\\


360° / 180° Video
It is possible to publish both 180 ° and 360 ° video in Panopto, but resolution is still only set to full HD. Therefore, we still recommend YouTube for publishing 360 content, but you can see an example of 360 content in Panopto here:
Recommended equipment for such recordings are: Richo Theta V, Richo Theta Z1, Insta360 OneX or GoPro Max.
You can watch a video showing how to upload 360 or 180 content to Panopto here.
The multimedia center can also assist with making 360 recordings.
Automatic recording in classrooms
Examples of recordings from classrooms:
TMA4105 Matematikk 2 vår 2020 - uke 13. Divergengsteoremet (recording in F1 with camera og iPad)
TTK4105 - Reguleringsteknikk 28.02.2020 (recording in EL5 with a tracking camera and three sources)
MOL4010 - Grunnleggende molekylærbiologi 10.02.2020 (recording in S7 with camera and PC)
Booking automatic recording in a classroom
You can book automatic classroom recording from the Section for Teaching and Learning Support. These recordings can also be published in Panopto, where you can edit and publish them however you want. Use NTNU Hjelp to contact the Section for Teaching and Learning Support
Editing
Triming videos in Panopto
In Panopto, you can do simple editing such as removing parts of the video, or inserting parts from another video.
You can read more about how to trim videos here.\\
\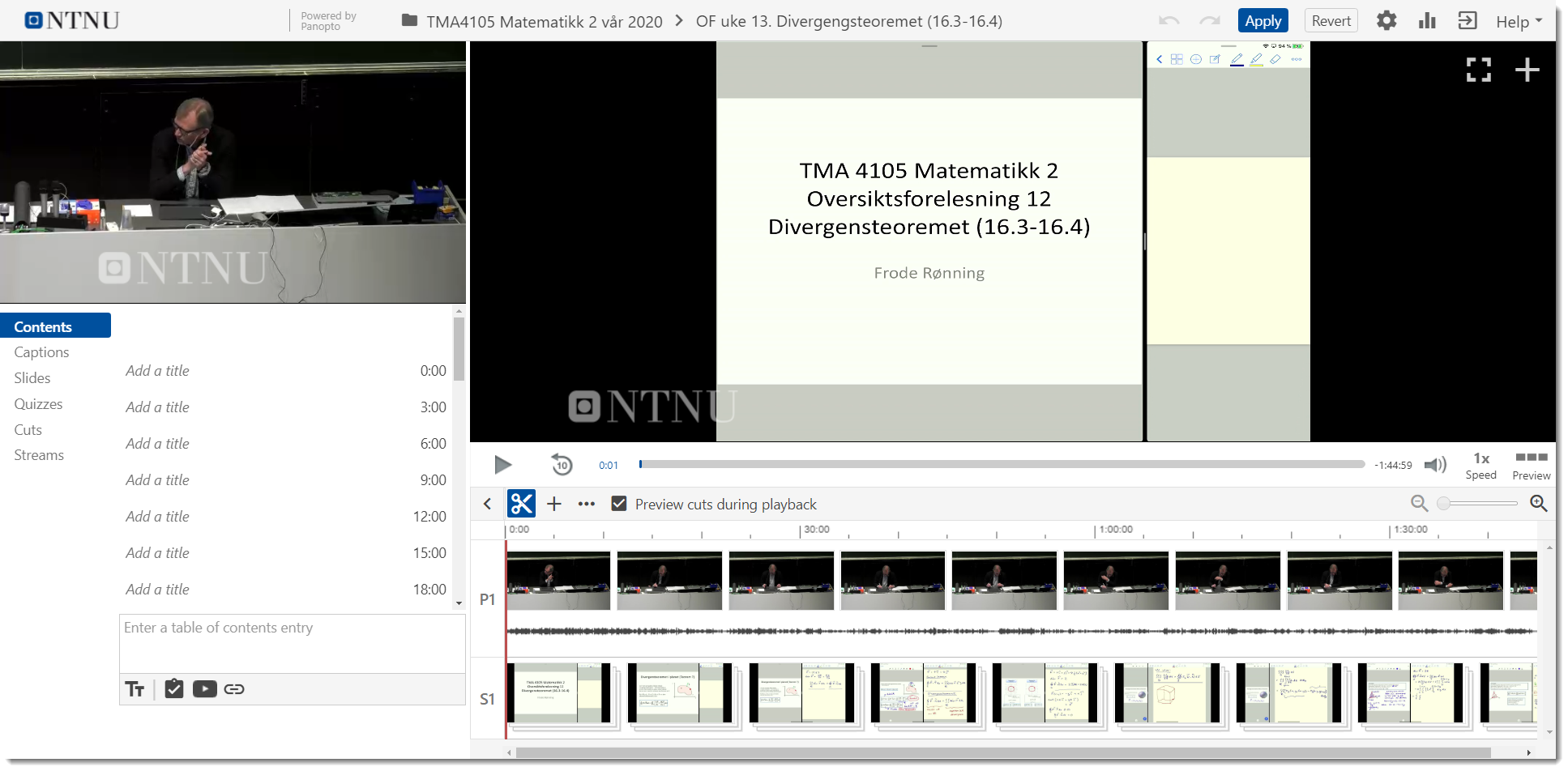 Panopto video quiz
In Panopto you have the option to add quiz questions to your videos. You can use Multiple Choice, True / False, Multiple Select, or Fill In the Blank. When the students arrive at a place in the video where a quiz question is positioned, the video is stopped and they must respond before they can see the rest of the video.
Read more about quiz in Panopto here
Watch a video about Panopto quiz here (English)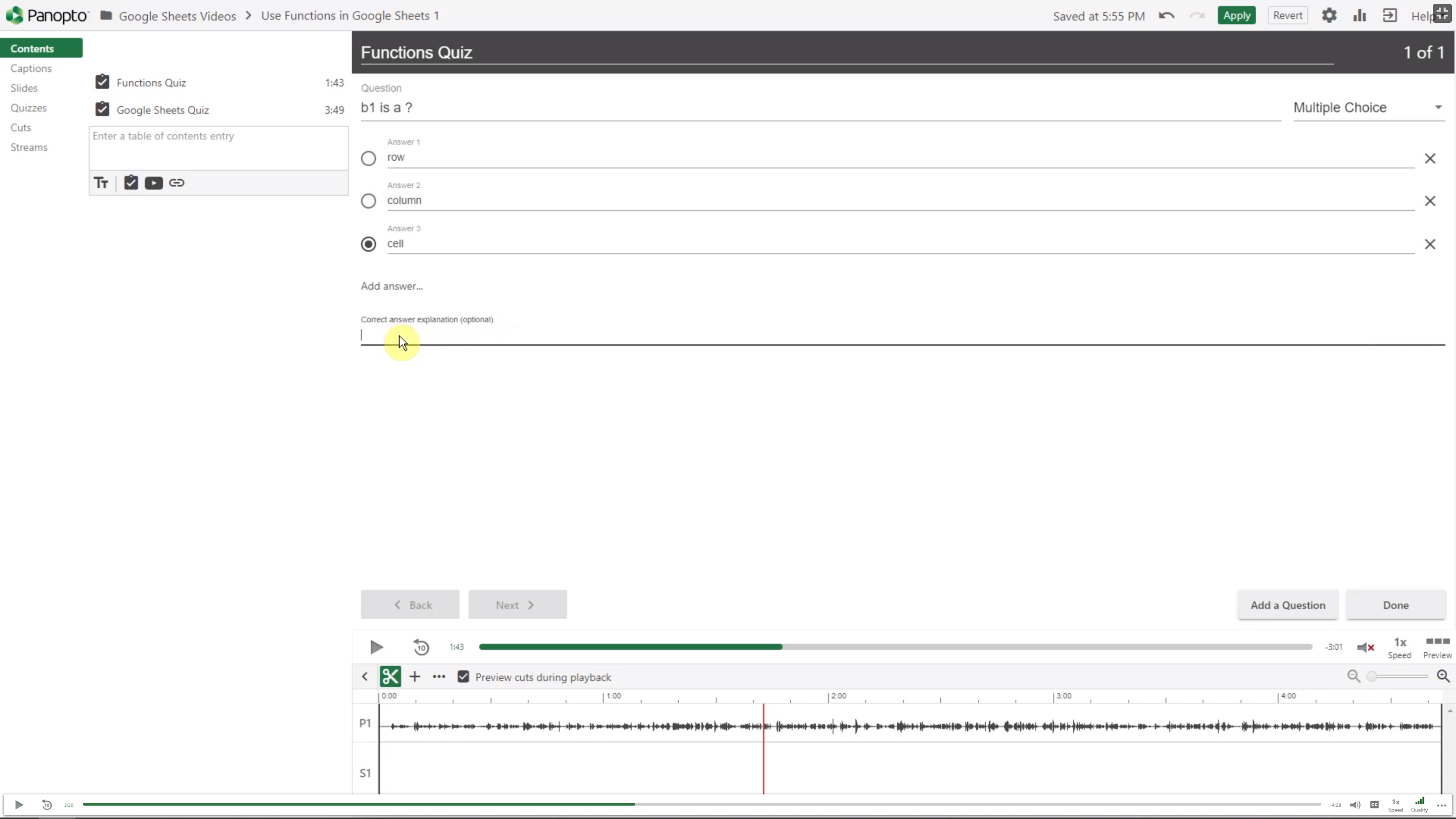 Generate automatic subtitles in Panopto (ASR - Automatic Speech Recognition)
You have the option of using automatic speech recognition to add subtitles to the video. Note that the mask-generated text is not yet as good as manual transcription, and you will need to allow time to correct the text. However the automated subtitles are a good starting point for editing. Text to speech will only work on Norwegian videos, and works best with an Oslo-area dialect.
When you upload an hour of video, it will take up to eight hours for the text to be ready.
You can learn about how to generate subtitles here.
Embedding YouTube videos in a Panopto video
If you want to use content from YouTube, it is possible to embed a YouTube video inside a Panopto video. This might be a good idea if you want to use content that already exists on YouTube.
Watch a video about how to embed here
Publish PDFs as attachments in Panopto videos
It is possible to upload a PDF file that students can view while watching the video. Read how to uplad a PDF here.
You can watch a video about how to publish PDFs together with a Panopto vdeo here.
Advanced vdeo editing
If you need more advanced editing than Panopto offers, the Multimedia Center has 200 licenses for Camtasia. NTNU also has an agreement with Adobe that provides access to Premiere for professional editing.
Video edited in these programs and all other editors can also be published to Panopto as an alternative to YouTube.
Panopto App for mobiles
There is an app for Panopto on Android and iOS, but we don't recommend it at the moment as it is a bit outdated. A new app will be launched in summer 2020. You can upload video from mobile at this link: https://s.ntnu.no/video
If you want to test the Beta edition of the new Panopto App then you can find it here
iOS: https://testflight.apple.com/join/PiGmtKQE
Android: https://play.google.com/apps/testing/com.panopto.mobile
GDPR
Guidelines for personal data protection in online teaching
Personal data protection and GDPR
Problems associated with recordings
When using an internal microphone on a PC, some users may find that sound is of varying quality. Here, we recommend always using a USB headset or USB podcast microphone, as this provides good sound in all cases. Here you can use the same headset that you use for web meetings, look further up this page for recommended equipment.
Help
If you need help you can contact the Multimedia center by contacting NTNU Help.

All the Norwegian tutorials are found here:

Panopto has a lot of good English-language resources, they can be found here:

If you encounter, you can check Panopo's status here:
Child Pages (3)
A podcast is a collection of audio recordings structured as episodes that can be about a specific topic or with different guests. It is a format which has grown very popular over the last few...

Norsk versjon: Panopto - automatisk teksting Table of Contents [-] Generate automatic text in Panopto (ASR - Automatic Speech Recognition) How to turn on automatic Norwegian subtitling of...

Norsk versjon: Panopto - for studenter Innhold kommer