Wireless network on Android - Kunnskapsbasen
This is a short guide on how to connect to the wireless network eduroam on Android devices. This guide also applies to Chromebooks, which are based on the Android system.
Norsk versjon - Koble til trådløsnettet med Android
Topic page about IT services | Pages labeled with wireless
Watch the instructional video eduroam for Android
Step by step
Go to Settings
Select Wireless Networks.
Turn on Wi-Fi and select eduroam from the list of available networks.
Then a new window should appear and you may enter your credentials as indicated below: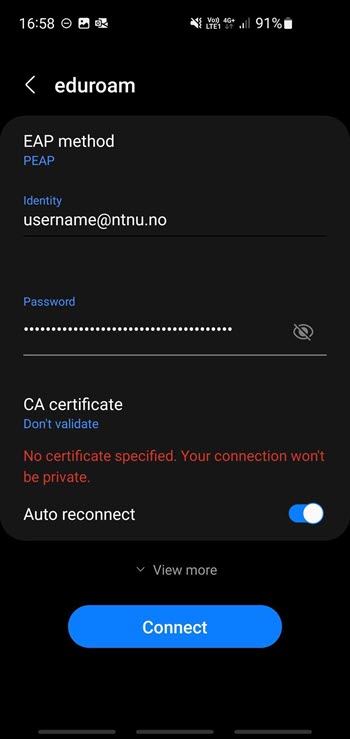 Note:
Some versions of Android have a separate field called Domain. In this case, fill in "ntnu.no".
The field Identity must be entered on the format username@ntnu.no. This applies for both students and employees.
PEAP should be selected as EAP method.
Should phase 2 authentication be requested, MSCHAPV2 should be selected.
The field CA certificate could in some cases be left blank, otherwise select Do not validate. Warnings regarding this can safely be ignored.
Press Connect.
Your Android device should now automatically connect to eduroam when in reach.
Alternative method: Eduroam CAT
Connect to the network ntnuguest
Download the app eduroam CAT
Open the app and choose "Norges Teknisk-Naturvitenskapelige Universitet" under
nearby configs by pressing the NTNU logo

If prompted, give the app access to your memory card

Choose Install

Type in your username and password. NOTE: The username must have the following format: username@ntnu.no
Press install, after a few seconds you will be automatically connected to Eduroam
Remove/forget the network ntnuguest and delete the app eduroam CAT
See also
Contact
Orakel Support Services can help if you encounter difficulties.