Plagiarism control - Using Urkund in Inspera - Kunnskapsbasen
Norsk versjon - Plagieringskontroll - Bruke Urkund i Inspera
Topic page about administration of exams (in Norwegian) | Topic page about course planning | Pages labelled with exam | Pages labelled with plagiarism
Inspera Assessment is integrated with the Urgund plagiarism control service. You will have the choice of plagiarism control both on assignments and exams.
When grading, you will be presented with the results of the plagiarism check under the 'plagiarism control' tab in assessment. Plagiarism control is a default setting for home exams and submissions conducted with Inspera that are not school exams. The results of plagiarism control are presented as percentages that indicate how much of the candidate's answer occur in other sources. The report also contains links to the external sources. Text found in other sources appears in orange. 
How does Urkund work in Inspera?
The subject's administrative contact activates plagiarism control in the test options.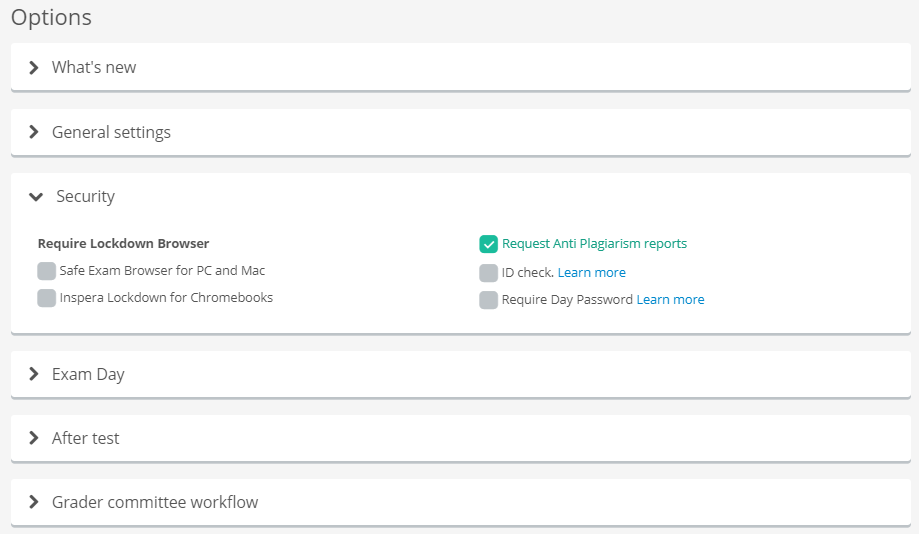 As a grader, you will then get the plagiarism control score in the tab "Plagiarism" when you view a candidate's answer.
Click the candidate number:
Then click the question you would like to view:
If you click the tab "Plagiarism", the analysis report will open in a new tab in your browser. A guide to understanding the analysis report can be found on the page Plagiarism control - Understanding the Urkund analysis report.