Connect to wireless internet for Mac OS X - Kunnskapsbasen
Connect to wireless internet for Mac OS X
How to connect to Eduroam wireless internet for students and employees (Mac OS X)
Norsk versjon - Koble til trådløstnett med Mac
Topic page about IT-services | Pages tagged with wireless
Watch instructional video eduroam for Mac
Automatic setup
NTNU has a program that will automatically set up Eduroam for you. This program works for Windows 7, Windows XP, Ubuntu Linux, Mac OS X and iPhone. The program will know which operating system you are using. If the program fails please follow the steps below to connect to Eduroam.
Manual connect for Mac OS X
Step 1:
To connect to the wireless internet at NTNU you need to either be on campus or some areas in town so your machine can find the network called Eduroam. Click on the wireless symbol in the top right corner. If Wi-Fi is turned off, turn it on in the same menu. Choose Eduroam from the list.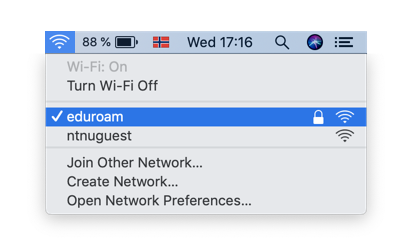 Step 2:
A window will appear asking for your username and password. Enter this information:
Username: Enter your NTNU-username in this format: username@ntnu.no
Password: The password you normally use with your account
Step 3:
Now a window will appear asking for certification authentication, click Show Certificate.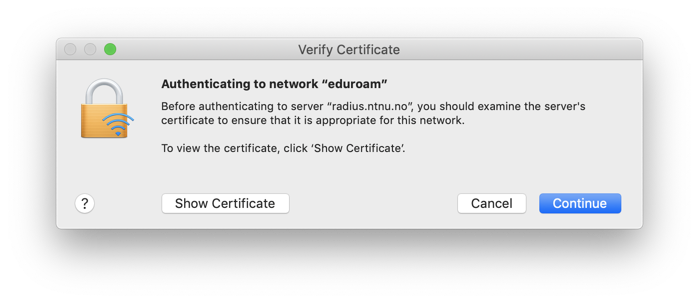 Step 4:
Under Trust choose Always Trust. Click Continue.
Step 5:
Your computer will now ask you for a username and password. This is the username and password you use locally on your computer (the one you use when installing a program).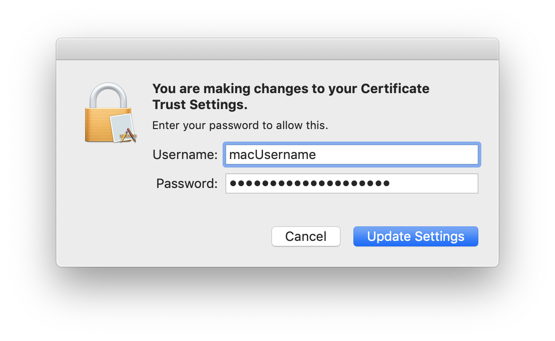 If everything was done correctly and no errors occurred, you should now be connected to Eduroam.
Known Issues
After change of security certificate on the wireless network, it can be difficult to connect again. This is how to solve the issue:
Verify that no profiles named Eduroam exist under Profiles in System Preferences::

- If "Profiles" is not visible, there are no installed profiles and thereby no Eduroam-profile. Proceed to the next step.

- If "Profiles" is visible, there are installed profiles. Open them and see if you can locate a profile named "eduroam". Select it and press the remove-button below it. Verify the removal with your Mac password.
Open Keychain Access. Search and delete all entrances for:
- radius.ntnu.no
- eduroam
Deactivate/reactivate WiFi. Click the wireless icon in the top menu and choose Turn Wifi Off. Do the same again but choose Turn Wifi On.
Connect to eduroam again and log in with username@ntnu.no and your password.
More information
Contact
Orakel Support Services can help if you encounter difficulties.