Recording studios for sound and video - Kunnskapsbasen
Do you want to explore your options for audio and video recording? Here we have collected information about the different places at NTNU where you can record audio and/or video. This is an area of constantly expansion at NTNU and there are continuously more studios being added.
Norsk versjon - Opptaksstudioer for lyd og video
There are many ways to use audio and video in teaching; films and sound files can also easily be integrated into Blackboard. You can read on the Teaching and Learning Center's wiki page how educators can use video for teaching and learning. More training materials are coming soon!
Gjøvik
Videostudio B108
The video studio in B108 has been updated with new equipment! This equipment is designed to be used by yourself after a short introduction.
Watch this short instruction video to see how to get started. Or contact the Section for Teaching and Learning Support for a short in-person introduction.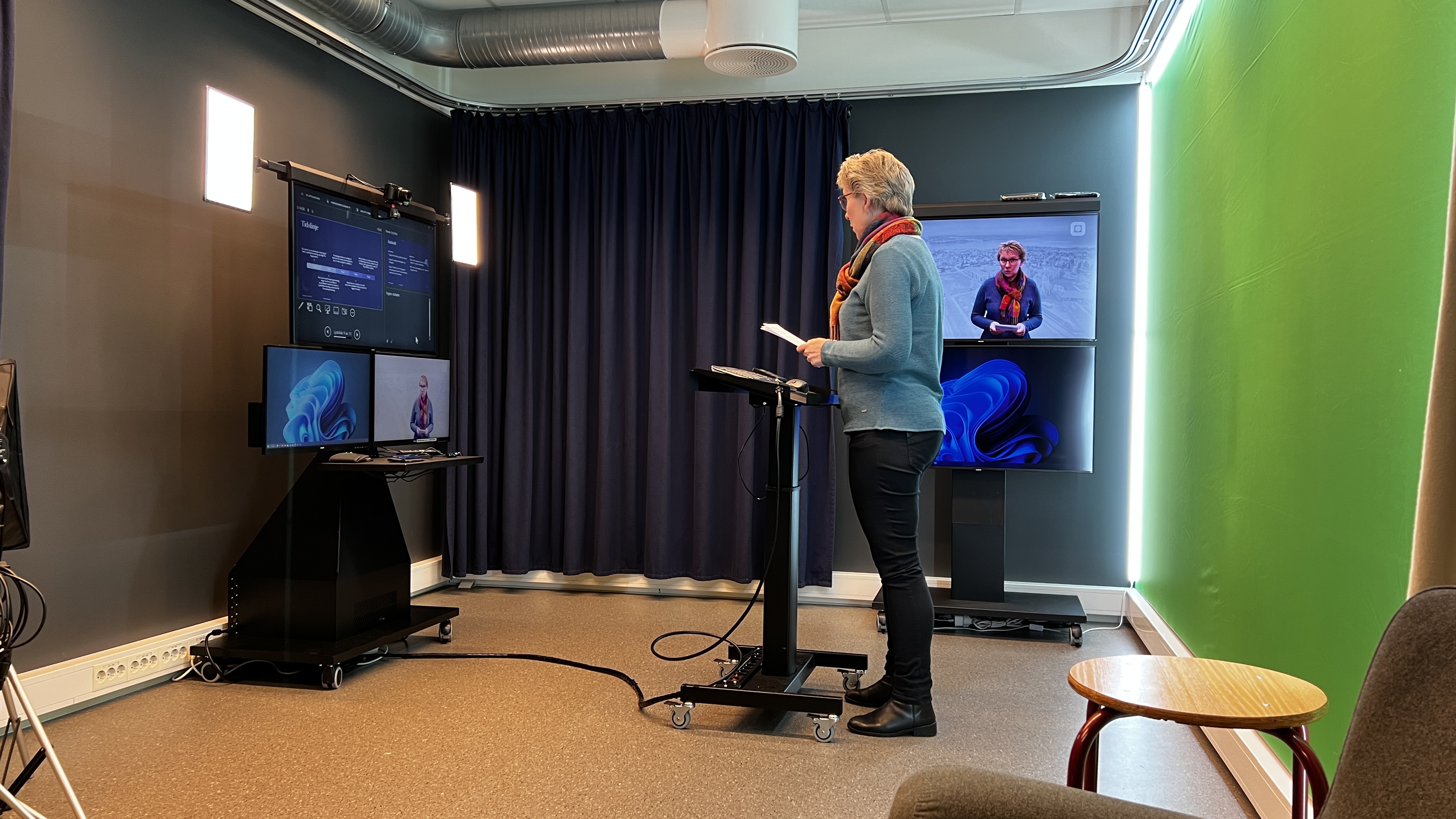 Picture: Vice-chancellor Gro Iren Kvali Dæhlin using the studio
Trondheim
Dragvoll
CastPod Lyd
There is a CastPod with audio recording equipment for podcasting and sound recording in Dragvoll room 1333. To book the CastPod you can use BLINK's inquiries form. BLINK Learning Hub runs the CastPod, BLINK is a partnership between the Faculty of Humanities, the Faculty of Social and Educational Sciences, UniPed, IT and the University Library. It is a virtual hub for research, teaching and learning, where students, educators, researchers and developers can work together to develop teaching and training.
To view a 360° picture of the CastPod Lyd click here.
Picture 2: The setup of the CastPod lyd podcast studio
Dagvoll Selvstudio
In Dragvoll in room 7322 level 3 in building 7, behind Sandkassa there's a small studio for individual use.
To view a 360° picture of Dragvoll Selvstudio click here.
Picture 3: The setup of Dragvoll Selvstudio
Ålesund
Studio Ankeret
There's a studio at F410m. Here you can record presentations, teaching and make picture-in-picture films. Here there is also the option to use green scene. You can book the room through the TimePlan system. For first-time use, assistance or training, contact Audun Andreassen at the Teaching and Learning Center in Ålesund.
Pictures 6 and 7: The setup of Studio Ankeret in Ålesund
Webinar booths
NTNU has set up a number of new webinar booths using Zoom Room technology. Most campuses have at least one Webinar booth. These rooms can be used for online teaching and the production of learning materials.
Read more about these Webinar booths and see where to find them and how to book them.
Swivl
Campus Gjøvik and Ålesund both have Swivl equipment that can be lent out on request. With Swivl equipment you can film teaching without the classroom needing to have any extra equipment. However, there are GDPR challenges with the use of Swivl when students are present as it is difficult to record without filming them. We recommend it only as an emergency solution, for example during guest lectures. To borrow Swivl equipment you can contact Paul Ole Hegstad in Gjøvik or Audun Andreassen in Ålesund.
Contact
If you have any questions about the content of this page or if you know about a studio which isn't mentioned here, please contact the Teaching and Learning Center or the Multimedia Center or the page author, Dixie Matre. All 360 photos are taken by Kim Arntzen.