Email signature - Kunnskapsbasen
This guide will show you how you set up one or several standard signatures for your e-mails.
Norsk versjon - Signatur i e-post
Topic page about IT services | Pages labeled with outlook
Add signature to Outlook
The procedure of addign signatures to your e-mails in the Outlook app differs if you have a Mac or Windows PC.
Signature in Outlook for Windows
Open Outlook on your computer.
Click on New Item, Insert and then Signature.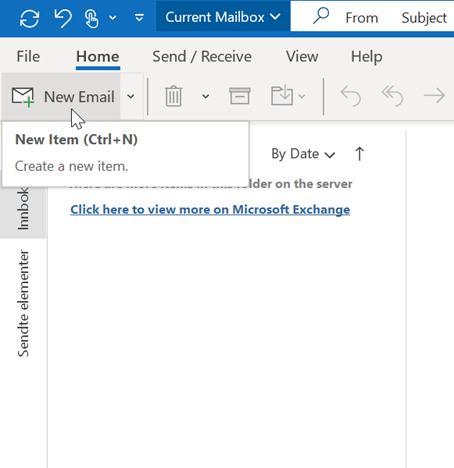 From here on you can add a new signature by pressing New. Write out your signature, choose which font to use and so on.
When you have finished typing out your signature, press Save.
Signature in Outlook for Mac
Open the Outlook application on your Mac.
Click on the Outlook tab up in the left-hand corner on the toolbar and click on Settings.
Choose Signatures and click on the plus button to add a new signature.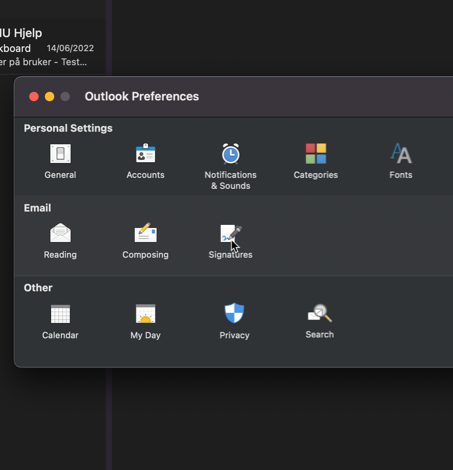 Add your new signature.
Signature in Outlook as Webmail
To add a new signature, press the Cogwheel and search for Email signature.
From here on you can add new signatures or edit already existing signatures.
To use your signatures in a mail, press New message, then the three dots located at the bottom of the new message next to Show formatting options. Press the three dots and then Insert signature.
From here on all your saved signatures will show up, and you can choose which one you will use in your message.
Examples of signatures
Your NTNU affiliation must be clearly visible in an acceptable way in all job-related emails. Don't stop with the name of your research group or the department where you work. The recipient of your email may not be familiar with the university. The university's full name should be written out.
By adding a link to your employee page, those you correspond with can easily find information about you and your group.
English example
Tor-Eirik Hanssen
Professor
Department of Engineering History
Norwegian University of Science and Technology (NTNU)
NO-7491 Trondheim, Norway
Tel. +47 73 59 50 00/ Mobile +47 918 00 000
\\http://www.ntnu.edu/employees/tor-erik.hanssen
Norwegian example
Tor-Eirik Hanssen
Professor
Institutt for ingeniørhistorie
Norges teknisk-naturvitenskapelige universitet (NTNU)
7491 Trondheim
Tlf. 73 59 50 00/ Mobil 918 00 000
\\http://www.ntnu.no/ansatte/tor-erik.hanssen
Use a shorter signature for replies and forwards
You can create as many signatures as you want. Consider setting up a shorter alternate signature that can be used for replies and forwards, particularly for internal correspondence.
For example
Albert Einstein, Professor
Department of Physics, NTNU
Related
Contact
Orakel Support Services can help if you have questions or if you encounter difficulties.
If you have tips to improve this guide, please send an e-mail to orakel@ntnu.no